Dr. Eric Paster grew up in Bensalem, Pennsylvania and never strayed too far from home during his extensive education. After graduating from The Pennsylvania State University with a degree in Pre-Medicine, he spent 4 years at Temple University School of Dentistry where he earned a degree of Doctor of Dental Medicine.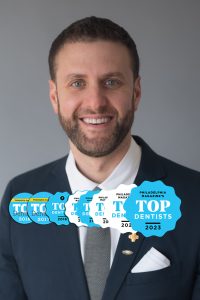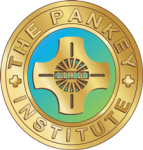 In 2012, he purchased Dr. Bruce Burns' dental practice and home and continues to provide the same quality dental care Dr. Burns had provided for nearly 40 years.  He is an active member of the Royersford Business Association and community.
Dr. Eric always strives to keep current with technology and new techniques by attending over 150 hours a year of continuing education in the field of dentistry and associated services; the state requirement is only 30 hours every other year. In 2017, the Academy of General Dentistry (www.AGD.org) honored Dr. Paster with their prestigious Fellowship Degree. Approximately only 7% of practicing dentists have achieved Fellowship.  He has lectured and presented at the AAO (American Association of Orthodontists) in Washington, DC as well as various other associations and study clubs.  He was selected by Philadelphia Magazine as a "Top Dentist" for the past 5 years, an honor that can only be achieved through a yearly vote by fellow dentists and specialists.
Dr. Eric has also trained at 2 world-renowned advanced post-graduate facilities: The Pankey Institute (www.pankey.org) and The Spear Institute (www.speareducation.com). Dr. Paster stays current on trends and techniques by affiliating himself with several study clubs throughout Pennsylvania, Maryland, Florida, and Arizona. Currently, he facilitates a Spear Study Club that meets in Wayne, PA. He is a member of a dental implant study club that meets bi-annually in Baltimore, MD, and is also a member of a Pankey Learning Group that meets biannually in Chester County, PA. He is also a member of the American Academy of Dental Sleep Medicine (AADSM), Academy of General Dentistry (AGD), American Dental Association (ADA), Pennsylvania Dental Association (PDA), and the Montgomery Bucks Dental Society.
Over the last decade, Dr. Paster has received extensive training in airway prosthodontics, giving him the ability to make anti-snoring dental devices and/or devices worn at night to treat sleep apnea and other forms of sleep disordered breathing for those patients who cannot tolerate their CPAP machine.  Most recently, Dr. Paster has supplemented his airway studies by training in "Myofunctional Therapy" which is the study of the function of the tongue, swallowing, and speech.  The principles of myofunctional therapy are now an important part of his practice by improving breathing, the health of the TMJ's and the stability of the bite.
Dr. Eric and his team aspire to give each patient the "comprehensive experience".  He has lectured throughout the country to general dentists and specialist on creating a positive environment for both patients and team members.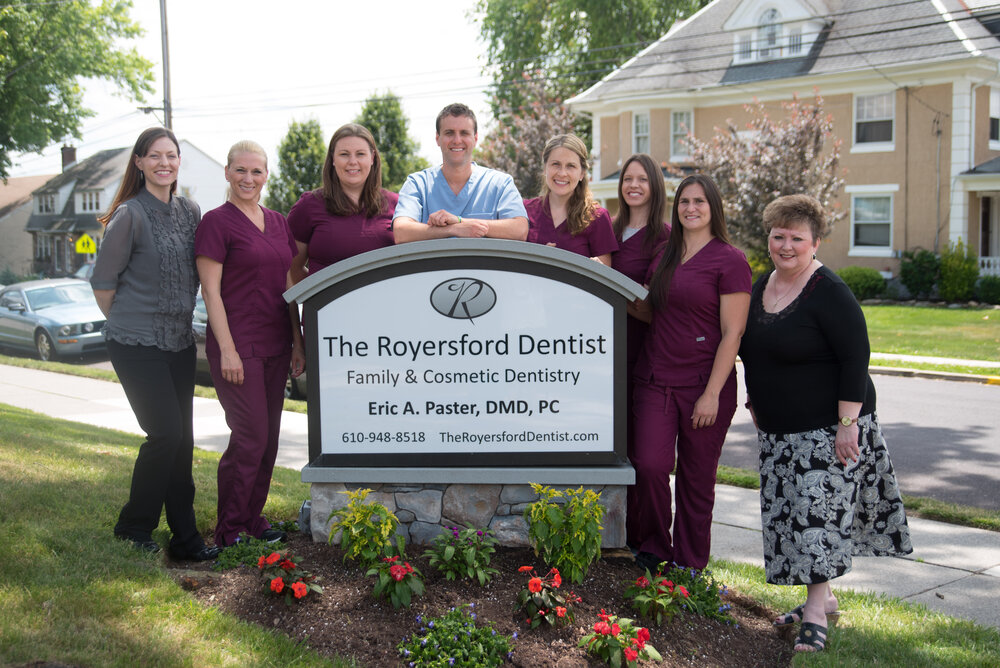 Dr. Paster always likes to point out that while he loves to practice dentistry, he is a HORRIBLE dental patient. Having a fear of the dental chair himself helps him be extremely empathetic to his patients' needs; he is ideal in treating patients who are nervous and anxious in the dental chair. Dr. Eric has years of experience working with children, and is committed to making his patients' visits as pleasant as possible.
Dr. Paster currently resides in Royersford with his family and his mini-poodle, Utley. During his free time, Dr. Eric spends time as a board member of "Rachel's Helping Hands Cancer Foundation".  The foundation assists families with the burden of medical and prescription copayments relating to the treatment of all types of cancer.  Find out more at Rachel's Helping Hands Cancer Foundation.
When he is not working, Dr. Eric enjoys spending time with his wife, Melissa, and their son, Caleb, along with being a frustrated golfer.
In acquiring Dr. Burns' practice in 2012, Dr. Paster has fulfilled his lifetime career goal of living and practicing in the same community. Dr. Paster hopes to establish long term relationships with families and offers quality services in a beautiful, relaxing and home-like atmosphere. We welcome you to stop and see our office, equipped with the latest technology to make your visit with us absolutely comforting.