"Welcome! If you are an existing patient, thanks for your continued trust. If you are considering visiting my office for the first time for treatment, please don't hesitate to call or e-mail with any questions. Our office has been providing top-quality dental care in the Royersford area for more than thirty years. Dentistry is a changing medical discipline and our entire team remains constant students; we attend many seminars and technical courses. Our state-of-the-art equipment attests to our continued dedication of providing you with the very finest dental care. You will immediately notice that our team treats you with the same concern, respect, and kindness with which we treat members of our own families. We are sensitive to anyone who is apprehensive about dental treatment and we will work with you to make your visits with us comfortable. "
— DR. ERIC PASTER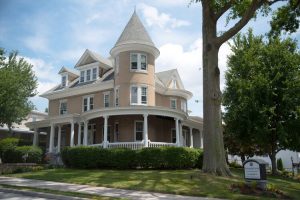 Our practice has cared for families since 1972 when Dr. Bruce Burns opened its doors. In 2012, Dr. Eric Paster fulfilled one of his lifetime career goals of living and practicing in the same community when he purchased Dr. Burns' practice and home.
The Royersford Dentist is in a beautiful Edwardian home that dates to 1909. Its original resident, William Ralston, was the treasurer of the Diamond Glass Company, which operated in Royersford, PA, from 1886-1990 and produced a wide variety of glass containers ranging from soda bottles and milk jugs to fruit jars and cosmetic containers.
Our address is 500 Walnut Street in Royersford, PA.
Let us welcome you to The Royersford Dentist, where our home is yours.
Please call (610) 948-8518 or send an email to appointments@theroyersforddentist.com if you would like to make an appointment or have any questions.